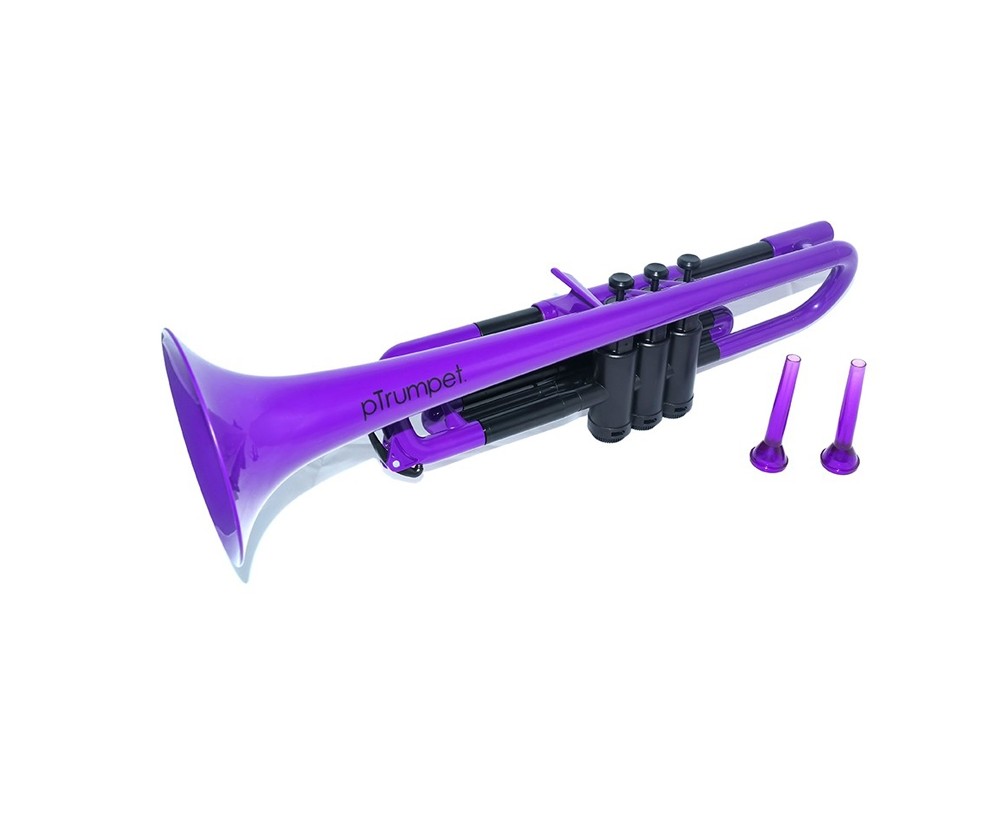 pTrumpet
<p>Trompeta de plástico</p> <ul> <li>Tonalidad <span lang="es"><span>en Sib</span></span></li> <li><span lang="es"><span>Cuerpo de ABS</span></span></li> <li><span id="result_box" lang="es"><span>Campana de 124 mm</span></span></li> <li><span lang="es"><span>Pesa solo 500gr</span></span></li> <li><span lang="es"><span>8 colores disponibles</span></span></li> </ul>
24h free shipping

31 day trial (Sound brand)

3 years warranty (Sound brand)

Financing

Repair center
Trompeta de plástico - pTrumpet
Es la primera trompeta totalmente plástica del mundo: una trompeta Bb totalmente funcional, diseñada en el Reino Unido para músicos por músicos.
Viene en su propio bolso de concierto inteligente junto con una boquilla 3c y 5c.
pTrumpet es un instrumento musical verdaderamente auténtico que ha provocado una revolución en la forma en que la industria de la música piensa sobre las trompetas. pTrumpet sigue los pasos de su instrumento hermano, pBone, el trombón más vendido del mundo.
Es la única trompeta con un sistema de válvula totalmente de plástico, que hemos diseñado y desarrollado para crear una ligereza, durabilidad y calidad de sonido inigualables. Nuestra tecnología patentada de tubos de plomo garantiza un sonido vibrante y enfocado. Es duro, tiene golpes y golpes en su zancada, gracias a su ingeniería de precisión de plástico.
pTrumpet es menos de la mitad del peso de una trompeta de bronce debido al material de plástico que se utiliza en todo el instrumento, por lo que es ideal para el músico más joven y para todos aquellos que puedan tener dificultades con el peso y el equilibrio. Su precio inigualable les permite a todos disfrutar de la calidad de un instrumento de metal equivalente a un tercio del costo. Feliz en las manos de los profesionales experimentados del mundo, pTrumpet es también el instrumento inicial perfecto.
Hemos diseñado boquillas totalmente de plástico especialmente para pTrumpet. Cada instrumento viene con una boquilla Trompeta 3c y 5c pTurnpet, también puede usar cualquier boquilla de trompeta metálica estándar.
Las bombas de ajuste de la válvula principal, primera y tercera de plástico, le brindan la flexibilidad de ajuste que usted esperaría de cualquier trompeta.

Por primera vez en un instrumento musical, pTrumpet incorpora tecnología patentada antimicrobiana de BioCote, que proporciona los más altos estándares de protección.
Tonalidad

en Sib

Campana de 124 mm

Tudel ML 11.66 mm

Sistema único de válvula completamente de plástico

Tubo de polimero patentado

Llaves de agua de plástico

Pistones 1, 2 y 3 totalmente identicos e intercambiables

Muelles inferiores

Bomba de afinación principal desmontable con llave de desagüe

Bombas 1 y

desmontables

2 boquillas de plástico 3C y 5C

Pesa solo 500 gr

Descanso especial para el dedo meñique derecho

Funciona con cualquier boquilla de trompeta estándar

Bolsa de transporte de tela

8 colores disponibles
This product does not have audio files.
Una introducción para pTrumpet (trompeta de plástico )por James Fountain

No customer reviews for the moment.